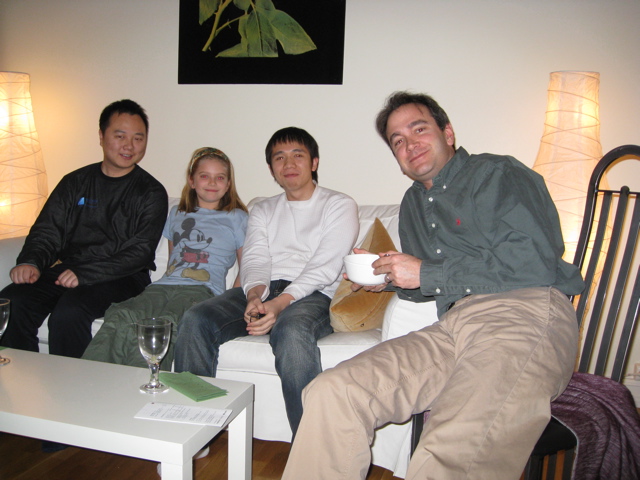 I feel like I'm on a vacation, but I imagine this feeling will end soon. Kent thinks for him it will be when it seems like the end of a business trip is approaching except he won't be heading for home until this summer. I did comment today that I felt like our apartment was feeling kind of like home. I miss our routine; i guess it's comfortable to me.
Today's weather, nothing like yesterday. It is cloudy and misty. I still manage a quick run. It's a good way for me to start the day. When I return KJ and I have school. (We've been trying to do this everyday.) We have 2 workbooks from school. Mrs. Johnson let her take all her school stuff home. We decide to do a little writing and some math, Kayleigh's favorite subject. She also does a page from her Summer Bridge Book which has a little of all subjects.
After school is out for the day we have some lunch, I shower and we head out. We are going to the post office again to pick up Kent's Ipod. He forgot his precious Ipod and thankfully Jamie our dog/housesitter was kind enough to mail it. Sad to say it isn't at the post office closest to our apartment and it appears it's going to be a hassle to retrieve. This is usually the case when in another country. (I'll info you all when and if he gets it. I'm also a bit concerned about the 2 boxes I mailed before we left. Where are they?)
Next we head to Ark Bookstore. They have a nice selection of English books but the prices aren't so nice. I spy several books I'd like to get but I'll keep waiting for my box of books. I do buy KJ Harry Potter 5. Last week Carolyn loaned her HP 7 and she's already finished it for the second time. The girl likes to read..... Speaking of reading we hop back on the Trikk and head to Majorstua neighborhood where the closest library is. On the way I also find the yoga studio I want to check out. The library is not bad. I really like a good library. They have some books in English for both KJ and me. In fact we find the very Roald Dahl book that was in her writing lesson today, pretty cool. We inquire about checking out books. All we need is our passports and we can check out 2 books and keep them for one month. We will be back.
This evening we have movie night. Kent invited Reas and Jin me to join us.They are two very, young and bright Chinese boys who are also here working for TTG. KJ and Jing Me decide we should watch Stardust. Hmm, some of us have seen it more than once. Kent and I went to Seven Eleven earlier and rented No Reservation which is a chick flick. I bet you know the one I wanted to see. We had a fun evening. I enjoyed chatting with them about how they like Norway and about China. Tomorrow they are off to Lillihammer. I hope to see them again.