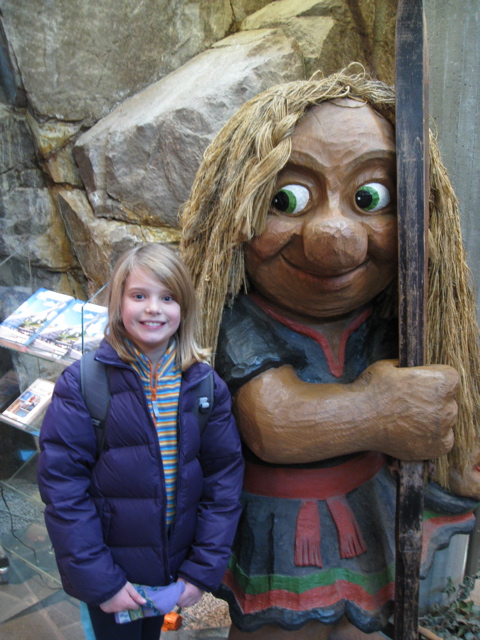 I think I should stop checking the weather. I'm a bit of a weather nut. In Portland I'm always looking to see when the rain will stop and here I'm waiting for snow. We left this morning to check out the local ski resort. We got on the train at Majorstua and headed north to Frognerseteren terminus about a 20 minute ride. Our first stop was Holmenkollen, the site of the international ski jump.
We walked up to check it out. It's hard to believe someone would actually want to do this??? We wandered around a little with a stop at the gift shop.
We got back on the train which was now full of cross country skiers headed to snow. This is great I thought, just what I was waiting for. I wish I had some skis. At the last stop everyone got off. You can ski right there, how cool is that? This area is called the Nordmarka, which is 30km deep forested area with tons of hiking trails and xcountry ski routes. We hiked to an area where tons of norkies were sledding, skiing, etc. We wanted to inquire about renting skis. After we found the place and the cost we are probably going to buy our own. We then hiked up to Tryvann, the small ski resort. It seems a lot smaller than Ski Bowl, where we like to ski at Mt. Hood. It looks fun though but they really need more snow.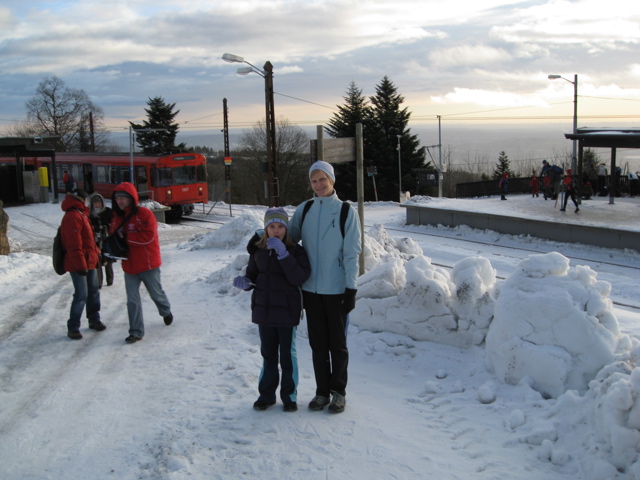 On the walk home from the train stop I found the gym I'd like to join. I left KJ and Kent and went in to take a look. One of the sales people gave me tour. The gym is called Elixia and of course it's a chain in Norway. This location she said is the largest in all of Norway. I do like the gym. I like lifting weights, cardio stuff, spinning, yoga. I hope I can talk Kent into this. Maybe it will help that we get the Telenor discount.
Oops, I forgot to publish this from last weekend.